Aa
Grace Lutheran Communities Hires New CEO! - As seen in the Leader-Telegram
Posted 6/5/2019
Grace Lutheran Communities is proud to announce a new CEO has been hired to lead the organization. Raymond Weiss will take over the position for the non-profit organization.


"I'm most impressed at the sense of mission inside Grace Lutheran Communities. That reflects the sense of meaning and purpose that is so evident in people's work. They have a commitment to providing that exceptional experience for residents, patients, families, and employees. In an industry that is constantly changing, they have found an anchor of strength in being the best at what they can be each and every day," said Weiss.
Weiss, a Beaver Dam, Wisonsin native, is a nationally recognized health care executive with more than 20 years of health care leadership experience. He has an undergraduate degree in Philosophy from Ripon College in Ripon, Wisconsin and a Master of Arts degree in Theology and Medical Ethics from Holy Apostles College and Seminary in Cromwell, Connecticut.
Weiss is a licensed Nursing Home Administrator and has formal training in executive coaching. He most recently served as Vice President and Chief Long Term Care Officer for Mile Bluff Medical Center in Mauston, Wisconsin. Weiss and his wife Julie have been blessed with three children who are now in their high school and college years.
Weiss will begin his work at Grace Lutheran Communities later this summer and he's looking forward to leading Grace Lutheran Communities, its partners, and its staff with a core focus on the mission. "For me, everything begins with mission as a leader. The mission of the organization comes to life through the day-to-day work and activities of our employees. From that mission flows a life-giving workplace environment where people can make a difference."
Grace Lutheran Communities has been helping our friends and neighbors in communities all over the Chippewa Valley since 1960. The non-profit organization specializes in rehabilitation, assisted living, skilled nursing, memory care, child care, independent living, and adult day services.

Below is the coverage from the Leader-Telegram.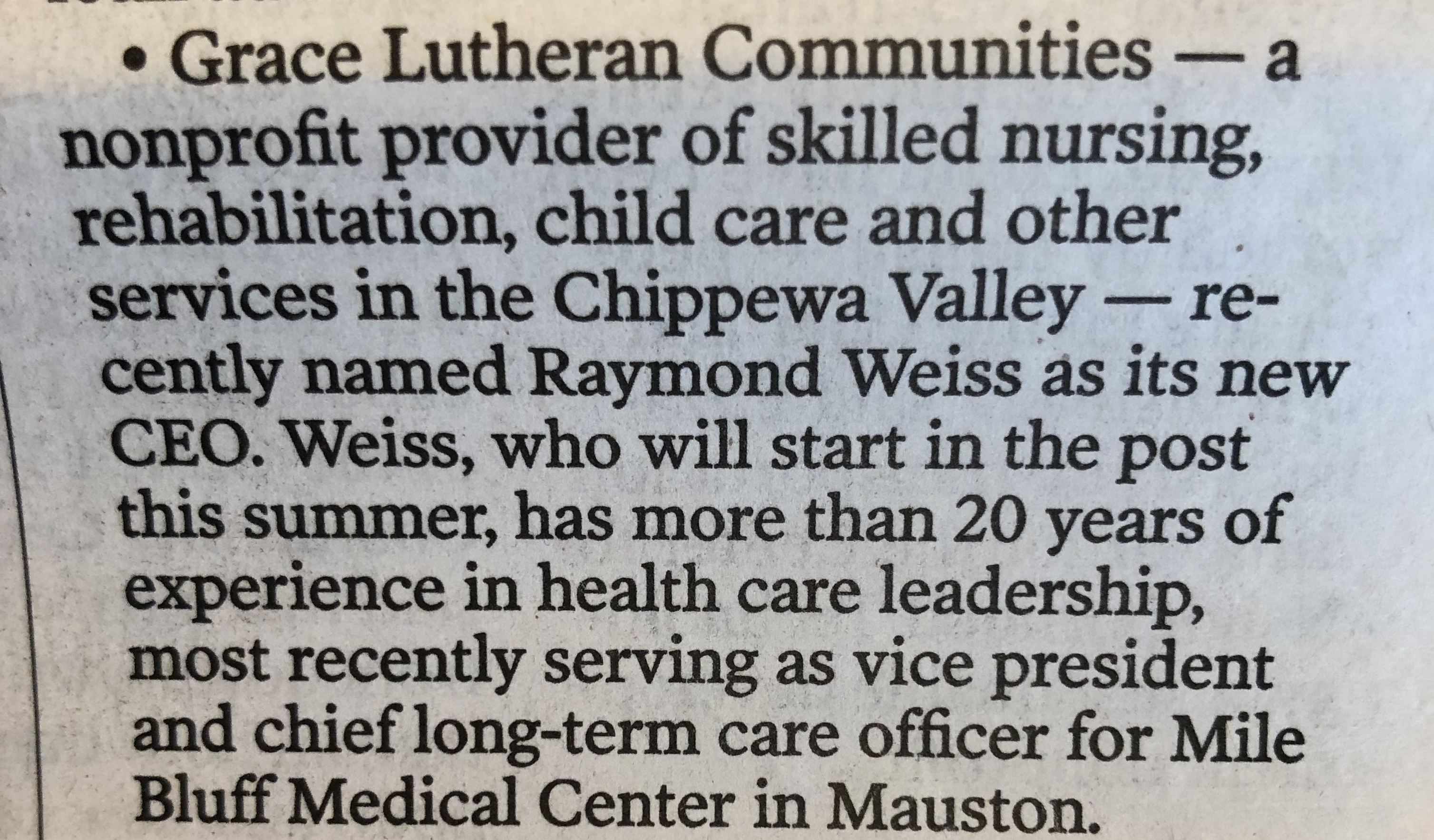 ---
View By Community
View By Category